SPREADS – περίφημα
| ΧΩΡΑ | ΑΠΟΔΟΣΗ % | Spread vs BUND |
| --- | --- | --- |
| ΕΛΛΑΔΑ | 1,13 | +1,55 |
| ΠΟΡΤΟΓΑΛΙΑ | 0,54 | +0,95 |
| ΙΣΠΑΝΙΑ | 0,54 | +0,96 |
| ΙΤΑΛΙΑ | 1,36 | +1,78 |
***
ΕΕΕ: Τη διανομή μερίσματος ύψους 0,6200 ευρώ ανά μετοχή ενέκρινε η έκτακτη Γενική Συνέλευση της Coca Cola
Η ΕΙΔΗΣΗ: Την παράταση των εγγυήσεων για τις τράπεζες στη χώρα μας   μέχρι τις 30 Νοεμβρίου 2020 με βάση τους κανόνες της ΕΕ για τις κρατικές ενισχύσεις, αποφάσισε η Ευρωπαϊκή Επιτροπή.
ΜΗΝΥΜΑ: ΡΩΤΑΕΙ ΜΙΚΡΟΕΠΕΝΔΥΤΗΣ ΑΠΟ ΠΟΡΟ!! "ΣΗΜΕΡΑ ΣΥΜΠΛΗΡΩΘΗΚΑΝ 40 ΕΡΓΑΣΙΜΕΣ ΗΜΕΡΕΣ ΠΟΥ ΧΡΕΙΑΖΟΤΑΝ Η ΕΤΑΙΡΙΑ ΓΙΑ ΝΑ ΔΗΜΟΣΙΕΥΣΕΙ ΤΑ ΟΙΚΟΝΟΜΙΚΑ ΣΤΟΙΧΕΙΑ ΤΗΣ 15/4/2020 ΠΟΥ ΕΓΙΝΕ Η ΠΩΛΗΣΗ ΤΟΥ ΠΟΡΤΟ ΚΑΡΡΑΣ! ΚΑΙ ΕΝΩ ΤΑ ΕΧΟΥΝ ΟΛΑ ΕΤΟΙΜΑ ΜΟΥΓΓΑ!! ΜΗΠΩΣ ΠΡΕΠΕΙ ΝΑ ΕΡΩΤΗΘΕΙ ΚΑΙ ΠΑΛΙ Η ΕΠΙΤΡΟΠΗ ΚΕΦΑΛΑΙΑΓΟΡΑΣ ΓΙΑ ΝΑ ΤΟΥΣ ΤΡΑΒΗΞΕΙ ΛΙΓΟ ΤΟ ΑΥΤΑΚΙ ΡΩΤΑΩ ΕΓΩΩ…Και για την υπογραφή: Δημήτρης Ιωαννίδης"
ΜΙΚΡΟΜΕΣΑΙΑ – απάντηση: Μην αγχώνεστε… Έρχονται, λίγο υπομονή… Μην ζηλεύετε τις… φούσκες.
ΣΧΟΛΙΟ: Με τον ΓΔ στις 675 και κάθονται και συζητάνε και διαλογίζονται… Πόσο πιο χαμηλά; Όχι φυσικά ο δείκτης…
ΣΥΣΤΗΜΙΚΕΣ: Να φτάσουν πρώτα τα 7,5 δισ. σε κ/φση και το ξανασυζητάμε…
---
Valuation tends to rise during economic crises as earnings collapse. But with the forward PE already at 25, how much higher can it go for the S&P 500 Index…
****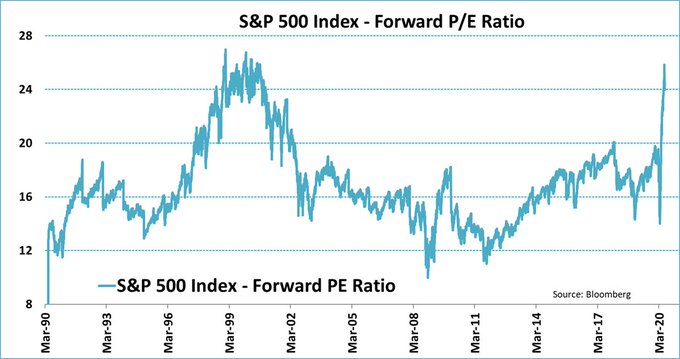 ---
Global Fund Manager Survey: Hedge Funds have dramatically increased their equity exposure during the last month.

---
BREAKING! US retail sales rose 17.7% in May, more than double the number expected.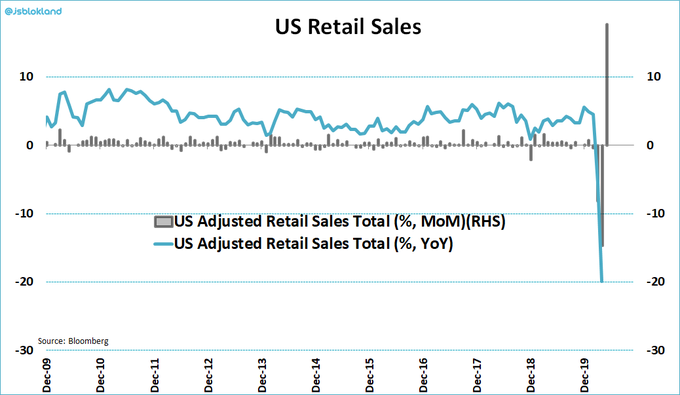 ______________________________
Νο.1 @10:00 πμ – Το χρηματιστηριακό σημειωματάριο του μικρομέτοχου (16 Ιουνίου 2020)
Tuesday, June 16, 2020
Market Monitor –  ¢ Market Comment
BETA SECURITIES
Stocks ended slightly higher, as some selective midway through the session reversed early losses. Europe was in the same trading pattern. Fears over coronavirus resurgence have triggered profits taking across Europe, at the moment when countries begin opening up after lockdowns. Greece opened skies On Monday for tourists from 29 countries with international flights to and from the country's main airports restarting.
General index ended at 647.98 points, adding 0.18% to Friday's 646.80 points. However, the large-cap FTSE 25 index contracted 0.15% to 1,568.01 points and the mid-cap index contracted 0.61%.

The banks index shrank 0.43% as Piraeus lost 2.69% and National fell 1.35%, while Alpha improved 0.47% and Eurobank advanced 0.40%. Ellaktor jumped 6.85%, Motor Oil increased 2.46% and Jumbo gave up 3.97%.

In total 45 stocks recorded gains, 63 endured losses and 15 remained unchanged. Turnover was the lowest of the last three weeks, amounting to €43.7m, down from last Friday's €58.6m.
Bounce across the board in major exchanges supports a positive sign in today's session. 
Greece/Economy: Greece opened international flights for tourists from 29 countries yesterday with flights to and from the country's main airports Athens and Thessaloniki) restarting. The countries namely are: Germany, Austria, Denmark, Norway, Cyprus, Israel, Switzerland, Japan, Malta, Finland, Bulgaria, Croatia, Australia, China, New Zealand, North Macedonia, Albania, Estonia, Latvia, Lebanon, Lithuania, Hungary, South Korea, Serbia, Montenegro, Romania, Slovenia, Slovakia, Czech Republic. Moreover, museums across the country reopened on Monday after a three-month shutdown. 
Greece/Economy: Greek Prime Minister Mitsotakis on Monday evening emphasized that the coronavirus pandemic "interrupted" the Greek economy's dynamism, speaking at the annual general assembly of the Hellenic Federation of Employers', the country's largest employers' group.
He said government's priority is to put a brake on firings, due to the effects of the lockdown, as well as to back employment in the country. In a bid to deflect criticism that his government oversaw a return to recession even prior to the Covid-19 outbreak, given that Q1 2020 recorded a slump of 0.9 percent in annualized GDP – Mitsotakis merely noted that the downturn was milder than forecasted, and four-times less than the drop in the Eurozone average.
Greece/Budget Execution: Greece's state budget posted a primary deficit of €4.8bn in the January-May period, falling short of the initial target which was for €43mn in surplus. The state's support measures to mitigate the impact from the coronavirus pandemic were responsible for the deviation. Still, the Finance Ministry said that tax revenues were €300mn above the updated target as submitted to the EU in April, incorporating the impact relief measures.
Preliminary data on a modified cash basis showed that state net revenues underperformed the target by 14% or €2.66bn, amounting to €16.1bn. Moreover, the Ministry said it has yet to book €30mn in its financial accounts due to technical discrepancies.

In May alone, net revenues underperformed the target by €1.37bn due to tax reductions and deferrals of payments. Ordinary revenues, which exclude receipts from social security organizations and local governments, underperformed the target by €2.45bn, amounting to €17.85bn. Tax revenues fell short of the target by €2.16bn, amounting to €15.5bn.
May tax revenues reached €2.bn, down €1.1bn compared to the monthly budget target. However, they were down just €219mn compared to the updated targets as included to the Stability Program. Public Investment Budget revenues stood at €1.3bn, €117mn above the budgeted target, while state spending amounted to €23.5bn, €2.3bn above target, due to COVID-19 related payments and higher Public Investment Budget spending. 
Greece/Building Activity: Total building activity surged in March as the number of new building permits firmed 10% y-o-y which corresponded to 56% higher volumes, the statistics office or ELSTAT said. Issued permits amounted to 1.305. In the January-March period, new permits advanced 43% while volumes were 57% higher. 
AthEx/FTSE: Following the updated capping factors methodology for shares that exceed 10% weight in FTSE, AthEx announced yesterday the capping factors that will be valid as of the close of Friday June 19. Specifically the new factors are: CHBC 0.3133, OTE 0.5028, OPAP 0.8217 and Jumbo 0.8859. 
Greece/Privatizations: A casino and two hotels being planned for the landmark plot of Athens' former international airport on the southern coast at Elliniko will be ready for business by 2024, Investment Minister Georgiadis said on Monday. Speaking to state broadcaster ERT, Georgiadis said that construction activity will officially begin at the plot – which represents one of the country's biggest privatization projects – in early July and will be inaugurated by Prime Minister Mitsotakis.
The process of demolishing around 900 structures on the plot and clearing the land is expected to take around three-and-a-half years, Georgiadis said, adding that the casino and two hotels will be built in the meantime and will be ready to open before the completion of the other features of the development project. These will include high-rises with offices and condominiums, as well as entertainment and leisure facilities.

 
Piraeus Bank: Mr A.Mistakidis announced that it owns 22,370,811 voting rights on Piraeus Bank or 5.1232% of total share capital (or 5.1472% excluding HFSF shares). 
Fourlis: Retailer Fourlis said that the January-April sales dropped by around €48mn compared to the year-ago period, while May top-line was 15% lower y-o-y. As for June, the retailer expects sales to settle at last year's levels. Fourlis said the company has already launched its Intersport e-shop in Cyprus and Turkey and it is about to introduce Intersport online in Romania and Bulgaria this week.
On June 12, the company bought 1,193 own shares at €3.65/share for a total consideration of €4.534K. Fourlis now commands 447,895 own shares or 0.8613% of share capital. We stand at a decline of -14.8% in consolidated sales for the FY;20 bringing sales figure a notch below the €400mn threshold to €397.42mn, a total €68.9mn loss compared to €466.32 FY;19 sales figure.
COCA COLA HBC: As of today the listing of 321,527 new (CR) shares following the recent share capital increase due to the Stock Option Plan commences. 
ENTERSOFT: As of today, the 25,000,000 new (CR) shares of the company are admitted to trading on the ATHEX following the recent share split. On June 16, 2020, the total number of the company's listed shares amounts to 30,000,000 (CR) shares. 
GEKTERNA: TERNA SA, 100% subsidiary of GEK TERNA Group, has recently signed three new contracts for private building projects with the companies ANAPTIXI FRAGOKKLISIA REAL ESTATE SA (a subsidiary of Prodea Investments), NOVAL PROPERTY and BOEHRINGER INGELHEIM HELLAS SA budgeted €61.6mn. 
TERNA ENERGY: On June 12, the company bought 45,021 own shares for a total consideration of €415.593K (€9.23 avg price per share). 
AEGEAN AIR: Main shareholder and BOD Chairman Mr Vassilakis bought on June 11, 43,419 shares for €164.093K (€3.78/share). 
AUTOHELLAS: On June 11, BOD Vice Chairman Mr Vassilakis bought 40,000 shares for €154.988K (€3.875/share). 
MYTILINEOS: On June 12, the company bought 7,565 own shares at €7.5023/share for a total consideration of €56.755K. Total treasury stock amounts to 417,565 shares or 0.2922% of share capital. 
OTE: On June 12, the company bought 54,516 own shares at €12.1042/share for a total consideration of €659.870K. OTE now controls 3,718,178 total shares or 0.791% of share capital. 
BRIQ PROPERTIES: On June 12, the company bought 3,000 own shares at €1.661/share (total amount consideration €4.982K). 
CNL CAPITAL: NAV as of end May 2020 stood at €10.44/share.
Kind regards,
Manos Chatzidakis
Head of research
29 Alexandras Avenue
11473 Athens,Greece
Tel: +30 210 6478755/754
Fax:+30 210 6410139
Email: [email protected]
Disclaimer: Beta Securities S.A.
This e-mail is confidential. If you are not the intended recipient, you
should not copy it, re-transmit it, use it or disclose its contents, but
should return it to the sender immediately and delete the copy from your
system.