JPMorgan Says Short Bets 'Collapsed' on 

$39 Billion

 Credit ETF
By
LQD short interest has dropped to 1.48% from 17.6%: IHS Markit

Fed's pledge to buy corporate bonds behind reversal: JPM
The Federal Reserve's entrance in the corporate bond market quickly changed the mood music for the largest credit ETF, with bulls now leading, according to JPMorgan Chase & Co.
Bearish bets have evaporated on the $39 billion iShares iBoxx $ Investment Grade Corporate Bond exchange-traded fund, ticker LQD, JPMorgan strategists wrote in note Friday. Short interest as a percentage of shares outstanding on LQD — a rough indicator of bearish bets — is currently 1.48%, according to data from IHS Markit Ltd. That's down from 17.6% on March 12.
The swing in sentiment is largely thanks to Fed's pledge to purchase corporate bonds and certain credit ETFs, they said.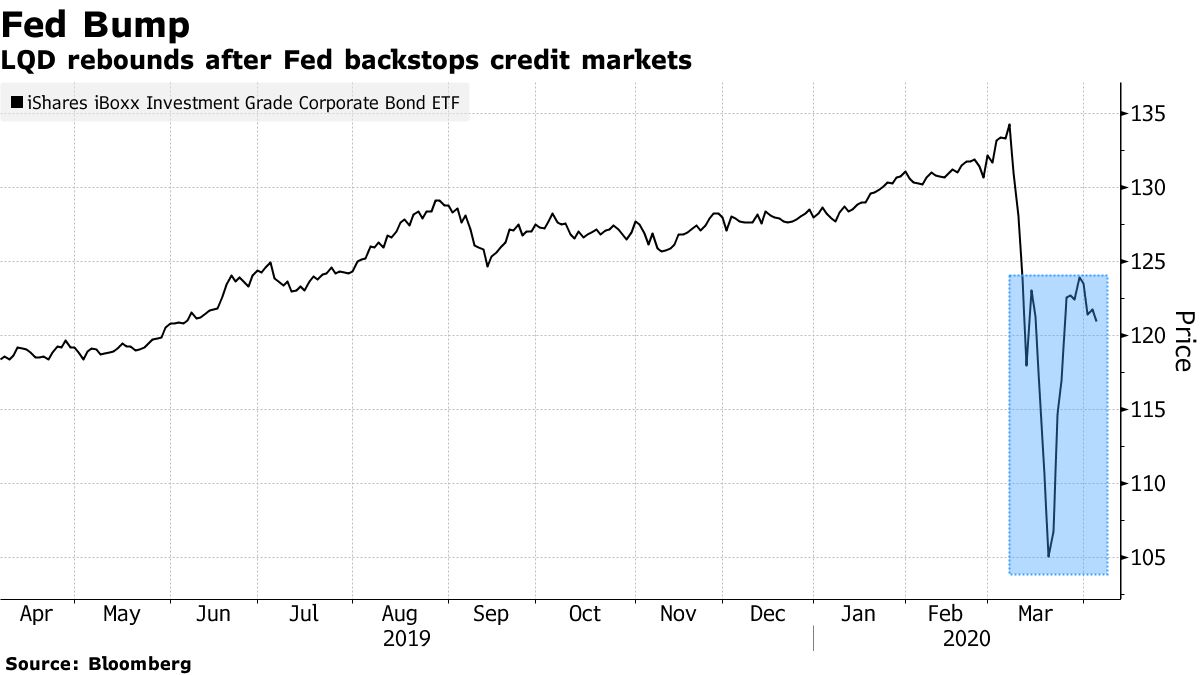 "The short base collapsed in speculator fashion from LQD, the biggest HG ETF after the Fed's credit backstop programs," strategists led by Nikolaos Panigirtzoglou wrote.
The U.S. central bank said last week that it would create a Secondary Market Corporate Credit Facility, aimed at cushioning the economic blow from the virus. It allows for the purchase of up to 10% of an issuer's outstanding bonds and up to 20% of the assets of any ETF "whose investment objective is to provide broad exposure to the market for U.S. investment grade corporate bonds," a primer accompanying the Fed action said.
The announcement has boosted the appeal of LQD, which rallied about 13% starting March 23. The fund saw a record intake of $6.3 billion last week, and has taken in $954 million since Friday.
The plunge in bearish LQD wagers combined with flows into equity mutual funds suggests that the worst of the the sell-off from retail investors is over, according to JPMorgan. While mom and pop weren't responsible for starting the virus-fueled correction across assets, they exacerbated price action in the final few weeks, the strategists wrote.
"They did amplify the down move in risky markets during the last two weeks of the corrections, in particular in corporate bonds," the note said. "The good news is that this previous panicky phase in retail investors' behavior appears to be behind us.