| ΧΩΡΑ | ΑΠΟΔΟΣΗ % | Spread vs BUND |
| --- | --- | --- |
| ΕΛΛΑΔΑ | 2,17 | +2,66 |
| ΠΟΡΤΟΓΑΛΙΑ | 0,96 | +1,45 |
| ΙΣΠΑΝΙΑ | 0,84 | +1,33 |
| ΙΤΑΛΙΑ | 1,78 | +2,28 |
**
ΤΑΜΠΛΟ: Το 20% του τζίρου στην μτχ της Eurobank που περνάει ξεκάθαρα στην αντεπίθεση. Δεν μπορεί να αποτιμάται σε… 600 εκατ. ευρώ.
ΑΛΟΥΜΥΛ: Διορθώνουμε,… ο όμιλος έχει ζημίες 2,33 εκατ. ευρώ και όχι κέρδη. Οπότε το p/e δεν υφίσταται.
ΑΠΑΝΤΗΣΗ: Καλύπτει αρκετά των ερωτημάτων σας…
Δεν σημαίνει, ότι αν αρκετοί τίτλοι παίρνουν "σκληρά ναρκωτικά" θα πρέπει να πάρουν υποχρεωτικά και οι υπόλοιποι.
ΠΑΡΑΔΕΙΓΜΑ: Αν η ΦΡΙΓΟ κάνει λ.χ 50 εκατ., η ΦΟΡΘ άλλα τόσα κλπ κλπ θα πρέπει ο ΛΥΚΟΣ π..χ. να κάνει 250 εκατ. ευρώ. 'Αλλο τώρα αν στα 22 και στα 25 και στα 30 εκατ. είναι για γέλια η κατάσταση.
---
Agenda: 26 weeks T-bills auction, Attica Bank FY:19 results, Terna Energy: AGM (Stock buyback), Sunlight EGM, US Q1:20 GDP announcement, FED meeting.
PAPOUTSANIS: As of today and following the share capital decrease of the company shares of the latter are traded on the ATHEX under the new par value of €0.56 per share, and excluding the right to participate in the capital return of €0.03 per share – through a cash payment – to the shareholders of the company.
ELLAKTOR: The company will announce FY 2019 results on April 30 after market close. AGM scheduled for June 26. NO dividend for FY 2019.
Forthnet: The company confirmed talks between creditors and United Group(BC Partners) for the acquisition by the later of a majority stake in the company. 
Thessaloniki Water: FY 2019 results on May 22.AGM on June 19. Dividend ex-date July 9. Dividend payment July 16. H1 2020 results on September 4.
Intralot: The company will announce FY 2019 results on May 4th after market close.
Karelias: The company will announce FY 2019 results on April 30 after market close. AGM on June 24. Dividend ex-date June 29. Dividend payment July 6.
AthEx Calendar – Upcoming General Meetings
30/04 Thessaloniki Water: EGM, New BOD member
07/05 Profile: AGM, Dividend €0.025
07/05 Sarantis: AGM, Dividend €0.165
08/05 PPC: EGM, Audit Committee members
14/05 Titan: EGM
12/05 Entersoft: EGM, stock split 5:1.
26/05 Viohalco: AGM
17/06 Elton Chemicals
19/06 Thessaloniki Water AGM
26/06 Flecopack AGM
23/06 PPC AGM
25/06 BYTE AGM
26/06 Ellaktor AGM
26/06 Athens Water AGM
29/06 Petropoulos AGM
30/06 Intercontinental REIC
07/07 KRI – KRI AGM
15/07 Thrace Plastics
16/07 IPTO AGM 
30/04 Thrace Plastics FY:19 BtO
30/04  Attica Bank FY:19 results,
30/04   Karelias FY:19
30/04    Ellaktor FY:19
04/05   Intralot FY:19
06/05   Lazaridis FY:19
07/05   Coca Cola Q1:20 trading update BtO
07/05   Mytilineos Q1:20 results update BtO
13/05   Titan Q1:20 (14/05 Conference Call)
13/05   KRI- KRI FY:19
13/05   IPTO FY:19
14/05   HTO Q1:20
22/05   Motor Oil Q1:20
22/05   Thesalloniki Water FY:19
29/05   BYTE FY:19
30/05    Athens Water FY:19
Manos Chatzidakis Head of Research 
Buyback frenzy of recent decades will not return soon as hit to revenues limit ability to buy back but also b/c buybacks may become socially unacceptable, Bernstein says. Corp buyers have been prim source of demand for equities, so valuations unlikely to return to pre-cris levels
Big Tech has become too big to fail, thanks to
#coronavirus
.
#Amazon
has been an essential service keeping households supplied during the pandemic. Alliance between
#Apple
and Alphabet's
#Google
on contact tracing is seen as key to reopening economies.
breakingviews.com/considered-vie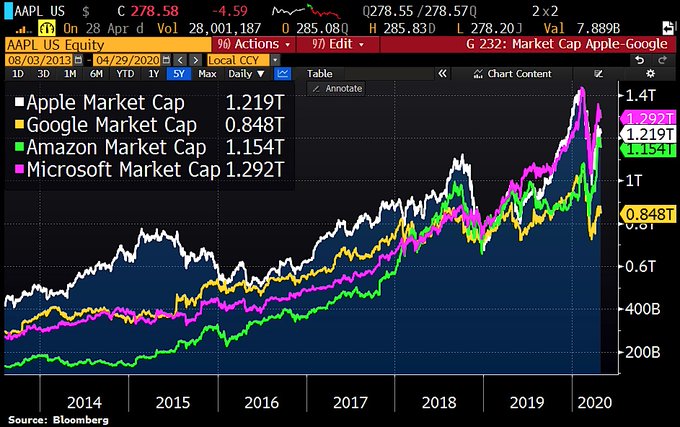 ***
The rise and fall of the Fear Index VIX overlapped neatly w/ rise and fall in the number of countries w/a daily growth rate of cases of 5% or more. The virus peaked at month ago and the worst is behind us in markets, DB says.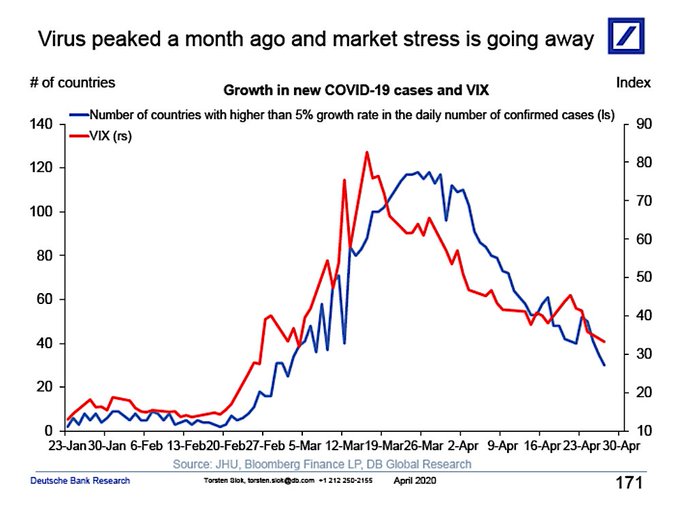 #Italy
10y risk spread over Germany jumps by 10bps after Fitch has downgraded Italy to BBB-, one notch above junk.